Laurel Glen Rosella Old Vine Rosé
A Limited Production Field Blend Rosé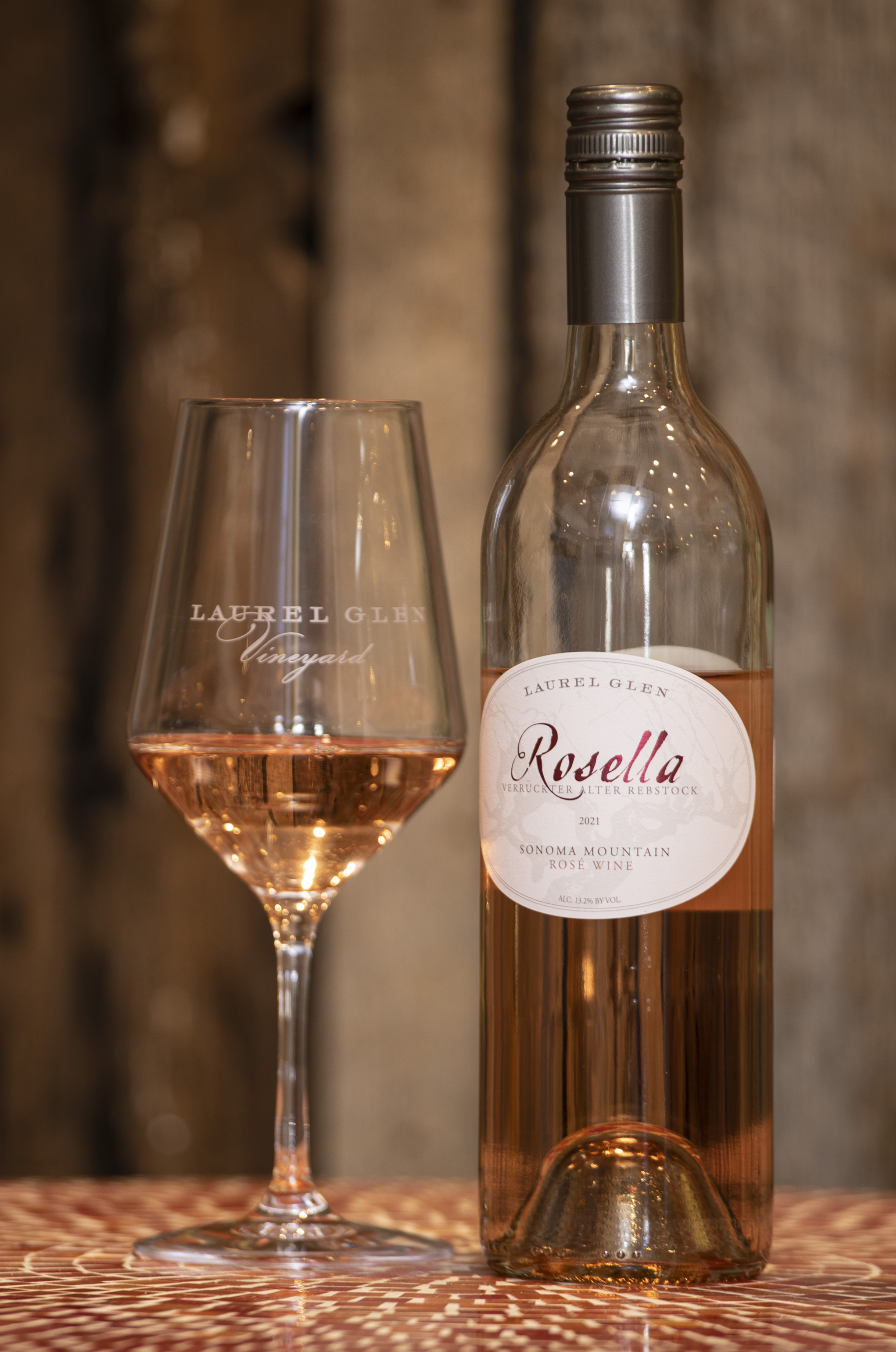 The Europeans who 'settled' Sonoma Mountain in the 1880's planted winegrapes. A row of these pioneer grapevines still grow at Laurel Glen Vineyard. They are gnarly old vines twisting their way up out of the red volcanic rock soil, right next to two rows of Cabernet Sauvignon vines planted in 1968. Starting with vintage 2012, what little fruit these three rows of old vines produced was pressed into a field blend Rosé. Part of the blend is Cabernet Sauvignon and part is a mix of obscure red varietals, most of which we can't identify with any certainty! Today we also blend in some Merlot from our neighbor, the Pickberry Vineyard.
"The 2021 Laurel Glen Rosé was made from red grapes, but the juice was fermented without the skins or seeds just like a white wine. Fermentation in a small stainless steel tank was kept at a very cool temperature in order to capture and preserve the fresh fruit aromas and flavors. The wine has a beautiful nose of strawberries and pineapple. It has refeshing fruit-tart flavors in the mouth and leaves you salivating for another sip."
-Randall Watkins, Winemaker
Vintage: 2021
Appellation: Sonoma Mountain
Varietal Composition: 30% of mixed field blend reds, 30% Cabernet Sauvignon, 40% Merlot
Case Production: 210 9L Cases
Alcohol: 13.2% by volume
Laurel Glen Blanc Slate Sauvignon Blanc
Our first ever white wine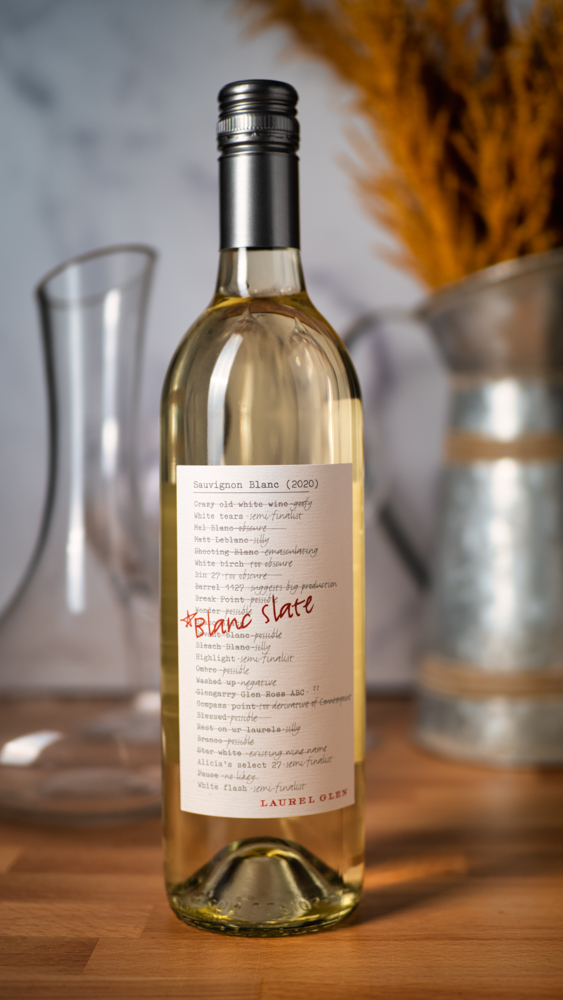 We wanted to offer a refreshing alternative to Cabernet Sauvignon (especially after the Rosé runs out.) When Randall and Bettina started discussing this idea, Randall was reminded of an old vine vineyard planted entirely to white grapes he had recently noticed in Russian River. It turned out to be a Sauvignon Blanc vineyard planted in 1976 and quite possibly the oldest Sauvignon Blanc grapes in Sonoma County. Intrigued, we bought a very small amount of grapes from Hopkins River Ranch in 2014 and were so impressed by the results, we've been making a few hundred cases every year since.
The vines produce very small berries, which we whole cluster press to preserve maximum freshness and then ferment slowly at a low temperature in small stainless steel tanks. The long cool fermentation preserves the freshness but also gives the wine an unexpected richness.
Who knew coming up with an original name for a wine could be so difficult? The label is our homage to the extensive brainstorming it took (over at least one bottle of wine) to develop a name that matched the quality in the bottle.
TASTING NOTES
The 2020 Laurel Glen Blanc Slate Sauvignon Blanc seduces with tropical aromas of kiwi and lemons. There is a beautiful richness in the mouth flavored with lychee nut and grapefruit, offset by a bright, mouthwatering acidity that leaves you looking forward to another sip!