Our Cabernet Sauvignon Wines
Our Cabernet Sauvignon is more refined than many California mountain Cabernets.
A typical Laurel Glen Vineyard Estate Cabernet displays an inky, ruby color, an expressive bouquet of red cherries and blackberries, a velvety mid-palate, and always a spine of minerality that keeps the sweet fruit in check.
A typical Laurel Glen Counterpoint Cabernet displays great structure and firm tannins, yet also manages to be fleshy. The aromas of raspberry and cassis are balanced by savory notes and a bright acidity, making this a uniquely food-friendly cabernet.
The Lot Series, a relatively recent addition to the Cabernet offerings from our estate vineyard on Sonoma Mountain, is the biggest boned wine of the portfolio. A typical Lot Series Cabernet Sauvignon has a very firm frame of chewy tannins and lively acid with a long, grippy finish. The style is more rustic with "bags of personality", to quote Lisa Parotti-Brown MW.
Laurel Glen Vineyard Estate Cabernet Sauvignon
Sonoma Mountain Cabernet at its Best
Since 1968, our Sonoma Mountain estate has produced memorable Cabernet Sauvignon of the highest quality. With our flagship Estate Cabernet, we seek to provide pure and authentic Cabernet Sauvignon to wine enthusiasts looking for a sense of place in their wines.
2017 Estate Cabernet Sauvignon Notes
What started as an excellent harvest was upended by the wildfires that ravaged Sonoma County in October. The hot, dry weather in August led to an early harvest. We started picking on September 14. Three weeks later, that hot, dry weather contributed to widespread wildfires. Access to our vineyard was cut off for two weeks. When we finally returned to the vineyard, over an acre of some of our oldest vines had burned and some of the fruit still hanging was damaged by smoke. The fruit picked before the fires, including from the old vines that subsequently burned, became this wine, our flagship Estate Cabernet Sauvignon.
Tasting notes from Winemaker Randall Watkins:  "Inky purple color with aromas of cherry, blackberry, sage, peppercorns, and just a hint of cocoa. Supple and finely textured, the wine has great freshness and depth, juicy acidity and tannins that are both firm and velvety."
Virginie Boone Tasting Notes in Wine Enthusiast:  "With a complex structure of firm tannin and substantial length, this youthful wine shows a juiciness of currant, a complement to the wealth of sage, cedar and pencil shaving that more impactfully define it. Entirely varietal, it will age well; enjoy best from 2027 through 2035." 94 points – Cellar Selection
2016 Estate Cabernet Sauvignon Notes
Winemaker Randall Watkins introduces the small but exceptional 2016 vintage . . .
Counterpoint Cabernet Sauvignon
The Perfect Complement to our Estate Cabernet
In music 'counterpoint' is the relationship between voices that are harmonically interdependent yet independent in rhythm and contour. There is no word that we could find that could better express the relationship between this wine and our flagship Laurel Glen Vineyard Estate Cabernet Sauvignon. Following the contours of the distinctive Sonoma Mountain appellation, we were able to bring together Cabernet Sauvignon from Laurel Glen Vineyard and Merlot from Pickberry Vineyards to create a unique voice that expresses itself greater than the sum of its parts. The challenge was to find Sonoma Mountain fruit selections that were complex enough to engage, and yet seductively approachable. We are pleased to have accomplished this.
Laurel Glen Counterpoint Cabernet Sauvignon beautifully reflects the pedigree synonymous with Laurel Glen Vineyard, while establishing itself as uniquely harmonious and stylish. For the astute buyer this wine will dress up for a special occasion and at the same time remain a dependable value that you can share (or not) in full confidence that pleasure will result from every bottle opened.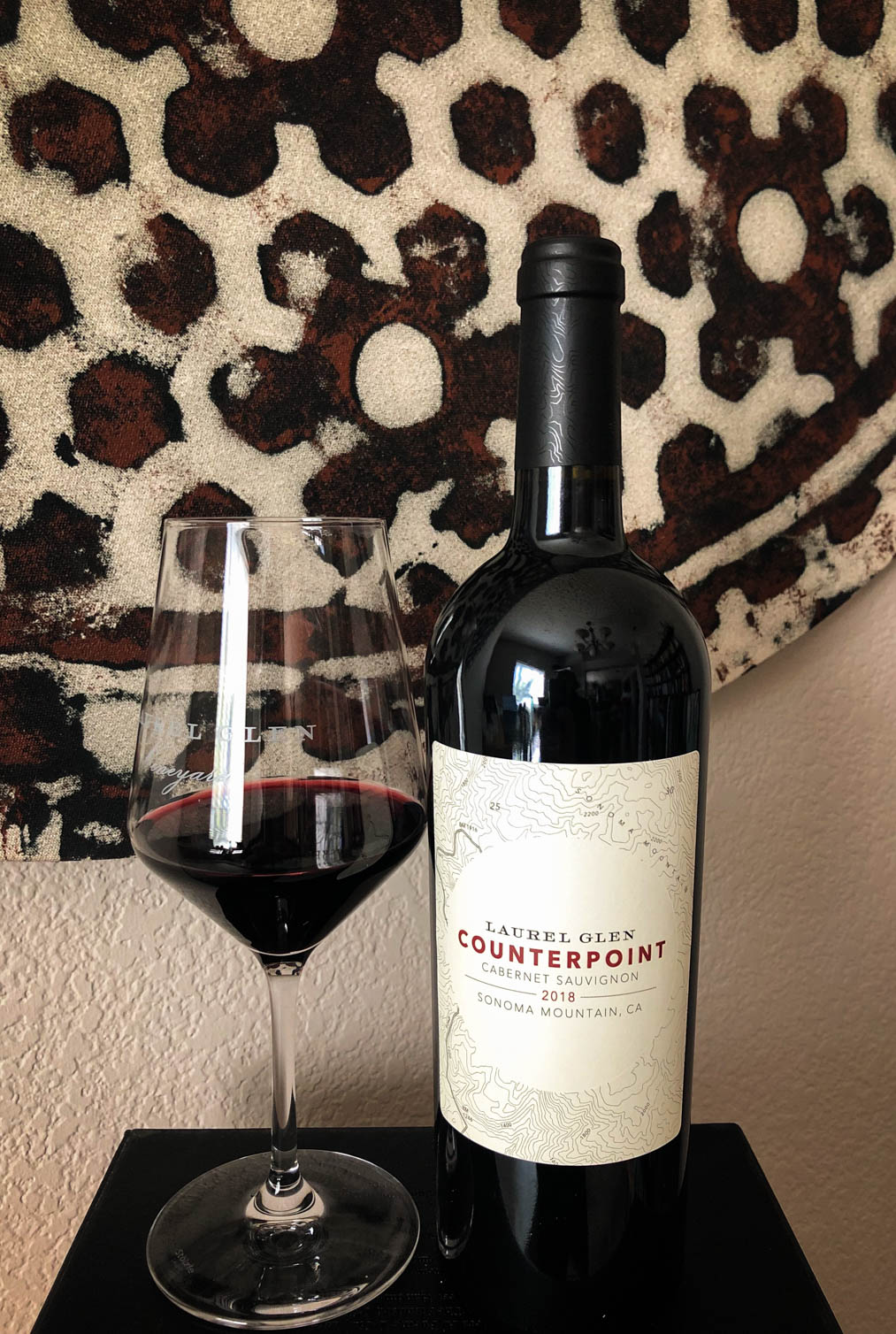 2018 Counterpoint Cabernet Sauvignon
The 2018 growing season was longer and cooler than had been the case in many years. The consistent growing conditions and milder temperatures allowed the grapes to mature slowly and evenly. Many winemakers are comparing 2018 to the much lauded 2012 vintage, due to the extended ripening time, fantastic balance and excellent concentration in the grapes. The mild weather also allowed us to take our time and pick each block as it became optimally ripe. As a result, harvest lasted almost a month, from September 27th to October 22nd. Additionally, after three years of extremely small yields, we were blessed in 2018 with the most abundant harvest since 2014.
Tasting notes from Winemaker Randall Watkins: "Lovely aromas of plum and dark rasberry. In the mouth, the wine unfolds in layers of spice and anise. The finish is fresh and bright with a focused minerality and tannins that are firm, round and delicious."
Virginie Boone Tasting Notes in Wine Enthusiast: "Crisply focused in currant, dried herb and cedar, this is a classically structured red that is vibrantly approachable and ample to drink in its youth. With just 30% new French oak, it delivers forested earthiness and high-toned freshness that complement each other well for a very fair price." – 93 Points
Connecting the Past to the Future
The Lot Series is our homage to the Laurel Glen Vineyard Cabernets of the mid-1980's and 1990's. Beginning with the 2012 vintage, Randall Watkins chooses the barrels with the most power and personality from Laurel Glen Vineyard. Most years, just 6 or 7 barrels meet the criteria to become this wine. Our aim is a wine that will taste, in a couple of decades, the way the 1990 Laurel Glen Vineyard Cabernet Sauvignon does today.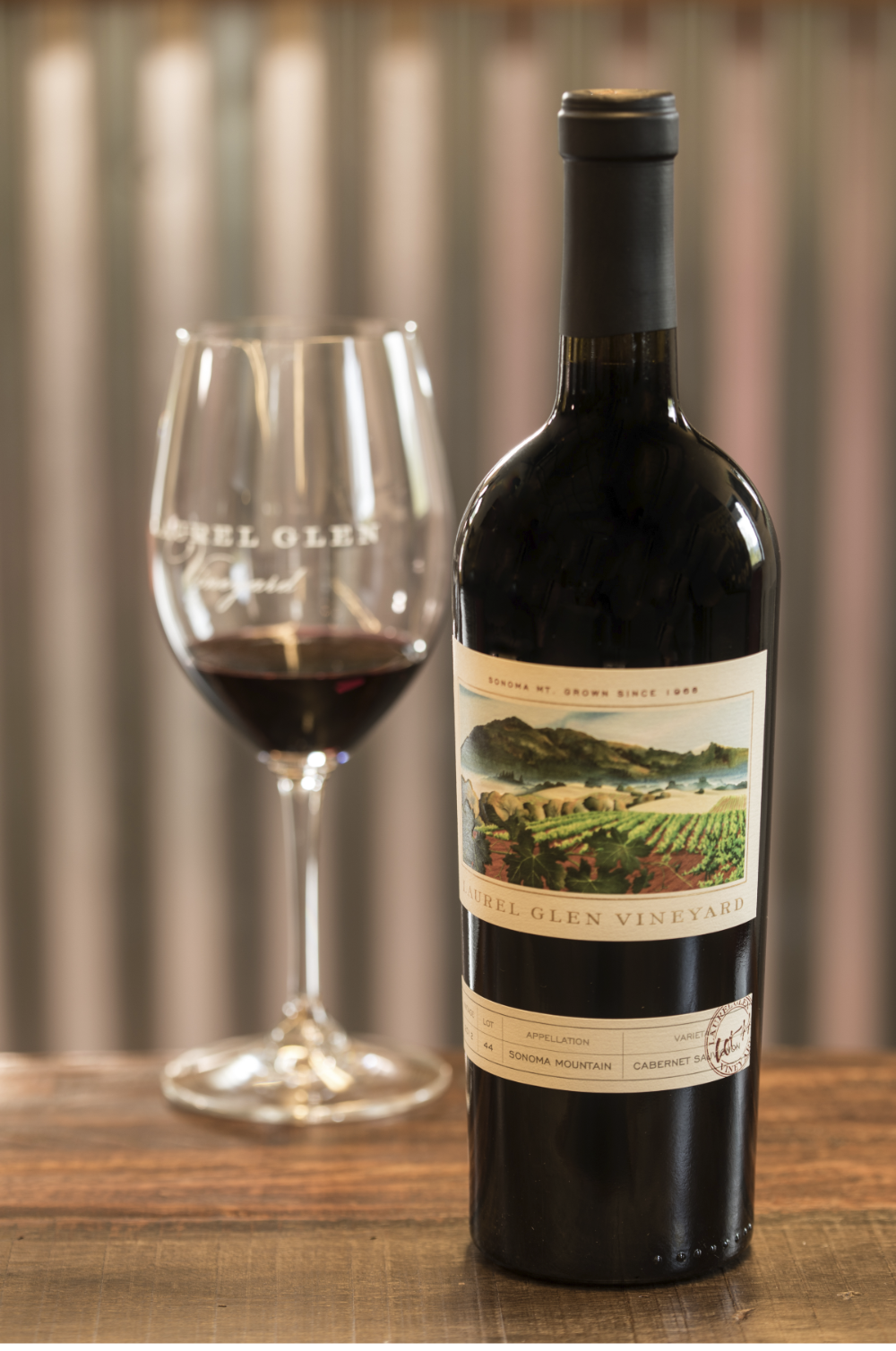 2016 Lot 48 Cabernet Sauvignon
ACCOLADES
"A wine made in tiny amounts to mark the 48th harvest at the estate, this red is sanguine in black olive tapenade and dusty, Old World notes of currant and cassis. Well integrated and structured, its tight tannin profile suggests further aging; enjoy best from 2026–2036." Cellar Selection – 94 points. Virginie Boone for Wine Enthusiast
2015 Lot 47 Cabernet Sauvignon
ACCOLADES
"This is a selection of five barrels chosen for structure and complexity; the wine 100% varietal and estate-grown. Baking spice and clove on the nose lead to soft, leathery earth and a juicy midpalate of currant and plum, while secondary elements of crushed rock and cocoa powder add nuanced texture. ." 94 points – Virginie Boone for Wine Enthusiast
2014 Lot 46 Cabernet Sauvignon
ACCOLADES
"Medium to deep garnet-purple colored, the 2014 Cabernet Sauvignon Lot 46 has a seriously intense, wonderfully earthy nose of tilled soil, mossy bark, truffles and iron ore over a core of sweaty leather, smoked meats, black olives, crème de cassis and preserved plums. Medium to full-bodied, the palate has a very firm frame of chewy tannins and lively acid with tons of earthy layers and a long, grippy finish. The style is a bit rustic, but it has bags of personality." – 93+ points – Lisa Perotti-Brown MW for Robert Parker's Wine Advocate
2012 Lot 44 Cabernet Sauvignon
ACCOLADES
" . . . blueberry and black raspberry, along with cassis, licorice and forest floor. It is full-bodied, opulent, savory and multidimensional. Another terrific and youthful but promising wine, it should evolve for at least two decades." – 94+ points, Robert Parker for Robert Parker's Wine Advocate